What To Do When…
A Beginners Guide to International PR
By Malin Curry
When I was accepted into Global Storytelling class in November, I was excited. Having never left the country, I saw this class as an opportunity to not only go somewhere outside of my comfort zone, but to also flex my PR muscles in an arena that was quite literally foreign to me. The challenge before me was two-fold. Not only was I tasked with bringing effective publicity and attention to a passion project created by my 26 other classmates, but I also had a personal obligation to represent the stories we collected in the most authentic way possible.
And so the question became: how? How can I balance my role to shine a light on the country of Belize without exploiting those who had let us into their lives? Where should and more importantly could I draw the line? To answer these questions, I set out on a journey to develop my cultural competency and improve my skills as a burgeoning international PR practitioner. Here are three things I learned along the way:
Understand ALL of your Audiences
In Belize, there are multiple cultural groups. From the Mayas and the Garifuna to the Mestizos and the Chinese, each of these groups are attracted to different things, and publicizing information that is palatable for these audience segments has proved to be challenging both in Belize and leading up to the premiere. The key is being able to balance the different wants and needs of each audience and developing material that tips the scales. Easier said than done, but this should remain an important part of the planning process and overall implementation of the campaign. What works for one audience segment, will not necessarily work for the other, and that's ok. The best PR practitioners are the ones that are able to pivot at a moment's notice and develop effective solutions to roadblocks.
Consistency is Key
In working on the social aspect of this project, we did our best to keep organized. We started with an editorial calendar to schedule out posts and then used Hootsuite to actually post them. This proved to be an effective form of planning, but of course, managing social media is not an exact science. In fact, figuring out when and what to post actually ended up being one of the "Barriers" the PR/AD team had to develop solutions for. And while it proved challenging at times, I am grateful for the experience as it allowed me to stretch my social media muscles, a skill crucial for the success of anyone in strategic communication.
Lean In
In no way is strategic communication an exact science. It requires a certain level of flexibility and creativity that can't always be derived from following a strict regimen or plan. During this trip, we had to be on the lookout for opportunities both social and otherwise that would help us to elevate the brand of this story and more importantly the class. Whether we were pulling our cameras out to take pictures of live iguanas or making changes to our editorial calendar to include some and publicize some of the experiences we captured in Belize, we continued to adapt. A big topic in the strategic communication world is this idea of being a change-maker and driving results. And if there is one thing I have learned during my time in Belize, it's that in order to be a change-maker you have to be willing to lean in to the uncertainty many situations can bring and make something out of nothing.
The trip to Belize was incredible. Given the prevalence of COVID-19 during our departure, I had many concerns when we took off. But there's no denying the irresistible beauty of the country. Lush forests neighboring beaches with waves that brush the sand gently like a brush on canvas make Belize a prime location for tourists looking to unwind and enjoy the sweet life. Coming back I was happy to be back in the states, but left knowing that Belize will always have a special place in my heart.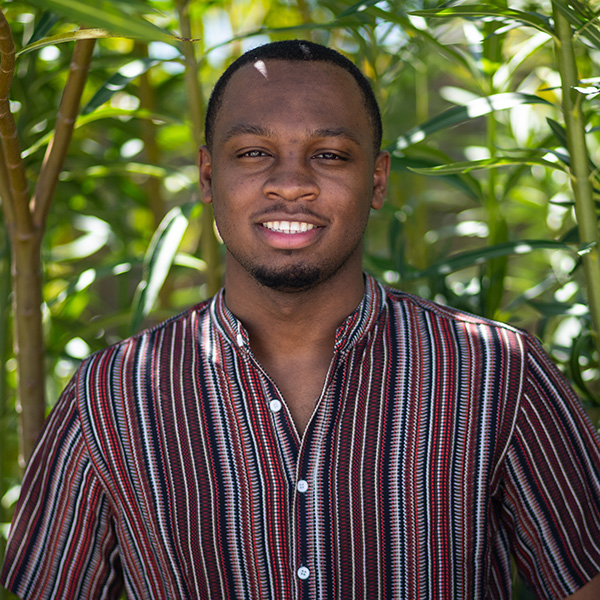 Hi, my name is Malin! I'm a senior and one of the PR coordinators for this trip. A few years back I got to play Stephen Curry in a game of HORSE.