Expectations Overboard
A reflection of my time working on an Environment NC project
By Claire Revere
I spat a final time and wiped the back of my mittened hand across my mouth. After losing my McBlueberry muffin over the side of the Salvation within our first two hours at sea, I seriously regretted not having taken Dramamine before we stepped aboard the fishing vessel. Luckily for me, my partner had.
Elise and I were on assignment for our Environment North Carolina project – an opportunity to practice as a team and hone our technical skills before heading off to the Galápagos in mid-March. Tasked with covering marine ecosystems stories, we were out for a day of fishing in the Outer Banks with Captain Charlie and his first mate Marty.
It was 6:30 in the morning. The sun was just rising and the temp hovered a couple of degrees above freezing. Rounding the corner out of the harbor, the sea was a tumult of clashing navy waves and pockets of foam. We were on the tail end of a big blow and the swell was larger than expected. Charlie advised, "Hang onto something, we gotta punch through."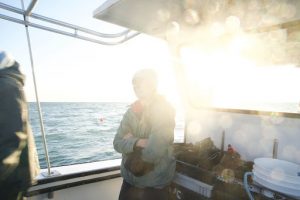 While the waves settled into a more consistent rhythm past the break, my mental picture of glassy water was illusory. The six-to-seven-foot waves swelled underfoot and my stomach rose and sank with them. My plucky confidence that we could handle the adverse conditions faltered and my face contorted into a nauseated grimace. Flinging spiny dogfish back into the ocean with fervor, Charlie hollered at me, "Got waters in the cooler if ya want."
The day turned out to be an unproductive one for fishing. The water temperatures were too cold and the cost of burning fuel to stay out was eclipsing the profit to be had from the meager catch. I can't say I was the least bit upset when Charlie decided to cut the day short.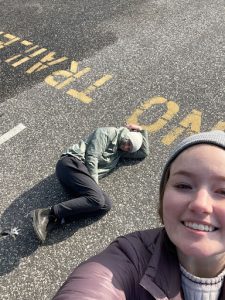 After ten minutes of lying with my cheek pressed into the parking lot asphalt, I was back on my feet and glad we had gone out (and not only because my nausea had subsided). I was reminded of an important lesson and one that's sure to serve me well in the Galápagos: expect the unexpected.
Maybe your tripod will break – Elise's did. Maybe you'll move your interview set-up twice to find quiet, only to learn there's still wind noise – we did. Maybe you'll discover that ginger ale isn't a sufficient seasickness preventative – I did.
Things are bound to change and the unexpected will occur; that's part of the beauty of fieldwork. By testing out equipment in advance, preparing for unfavorable conditions, and bringing extra supplies, you'll prime yourself for success despite tribulations. If possible, a full trial run can be especially valuable. And it may even help you keep your breakfast down.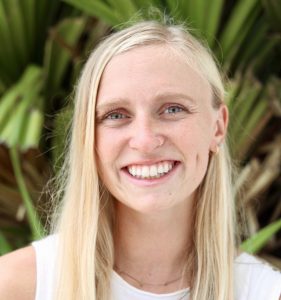 Hey, I'm Claire! I'm a strategic communication MA student from the Pacific Northwest. My passion lies in employing visual storytelling to bolster the empathy and connection people feel toward nature.
Fun fact: I'm a three-time Ultimate Frisbee world champion!